Reality Check

While it is best to be optimistic and all after the flood brought about by the southwest monsoon, it would also be wise to turn our eyes to the stark reality before us. The blame game has already begun, but we need to wipe our historical lenses for some clarity. How did it come to this? Was Manila a natural flood hazard? Here's a short explanation from Paolo Alcazaren, pertaining to the photo above:

Although it did flood in Manila from time to time, here's why-80 years ago- the seasonal deluge did not reach the epic proportions or pose the threat to lives, that we see with alarming regularity today. (The bridge in the foreground was the original Jones Bridge. The structure in the the field on the upper left is the UST in its new Sampaloc campus). The reasons: 1) All that open green space in Sampaloc and beyond absorbed most of the rain. 2) Manila in the late 1920s had not yet lost the 22 kilometers of esteros and other drainage ways that have disappeared since then. 3) The population was just 600,000 in and around Manila … which today hosts 12 million, of which close to 3 million are informal settlers …the garbage generated by the 1920s Manila population was only a few tons a day compared to today's 6,000plus tons a day - a great amount of which end up blocking drainage ways or in the bay.
So we ask again the question, after shouting "The Filipino Spirit is Waterproof", what now?

I refuse to make that tagline an excuse to be helpless victims of circumstances that we ourselves have created. I'm saying this because we are just too prone to make every excuse not to move or do the greater work of making it right. We have to acknowledge that this was not a natural calamity. It was man-made.
I'm also careful to glean that our situation is not that unique. Other Southeast Asian countries and even China have not fared better either. The "Only in the Philippines" tagline has been overstretched to antagonize ourselves and blame the government or our other kababayans for this calamity.

Now, flattening these out, don't you think its time to get our act together? 

Here are some suggested steps:

1. Learn from our neighbors.
We seriously need to open our eyes and see the wider world before us. Rizal taught us that. In "The Philippines a Century Hence," Rizal made many astounding futuristic conclusions based on his gained grounded knowledge on 19th century geopolitics. This served as his guide and lens to assess the possibilities and opportunities the Philippines could get. 
So here's how Malaysia did it. 
Let's look at the little red dot called Singapore.
Or look at South Korea, and how the company Grundfos became the Korean expert on flood control.
First, notice the concern that the political and intellectual machinery of these countries have on their people. While some say it's all brains and money, I beg to disagree. It's all heart and concern for their own people with a firm resolution that things needed to be done. Budget needs to be allotted. We need our engineers, urban landscapers, architects, scientists, the private sector, political leaders and other Filipino thinkers to come together and think of practical solutions for both short-term and long-term goals to alleviate constant flooding. I hope while watching the videos, I have already proven that these problems have actual working solutions. 
2. Learn from our people.
Yes, Pilipinas. We have our homegrown scientists in the provinces,  Filipino thinkers in Manila and beyond who do not have an industry in the Philippines to work on. And yes, they are being enticed by other prosperous countries to work for their research & development projects. Brain drain we call it. Our government and our schools need to focus on training people for practical sciences to utilize our abundant natural resources and think of practical solutions for problems such as flooding. And we need to seriously LISTEN to these people if we want flooding to stop. 
Take for example the Paranaque floodway proposed by Felino Palafox Jr.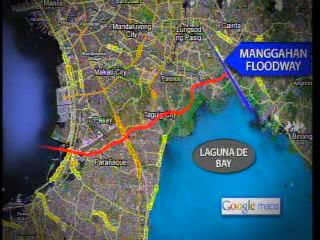 3. Learn from our history.
We need to realize that Manila is a city of esteros… not different from Venice or Paris if Manila's beauty would have been maintained. The original city of Manila was Intramuros. During the American Period, expansion and counties began to form the greater Manila with careful city-planning done by Burnham (the urban planner who designed the grid-streets of Chicago). Years went on and ugly, impeding structures began to tower Manila skyline that it seems convoluted now. Nakakalula. So lets start small. How about cleaning up Manila's esteros? Paco Market did a good rehabilitation of its corner and the estero beside it. It's possible.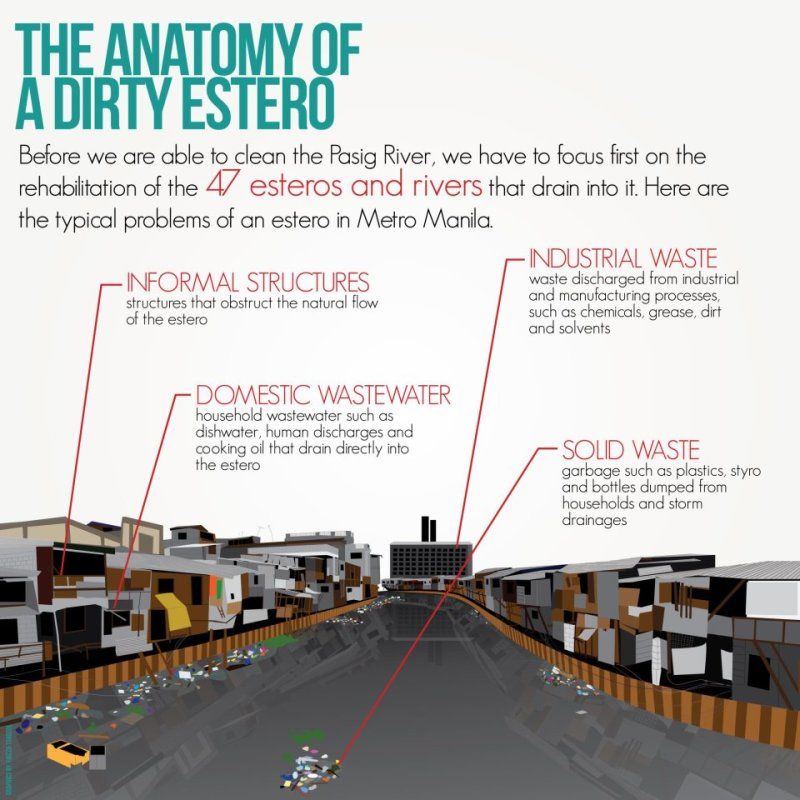 From Kapit Bisig Para sa Ilog Pasig
4. Time to move. :)